Product Description
1000L Craft Beer Brewing Machine
This craft beer brewing machine includes but not limted to: 10hl brewhouse, 10hl and 20hl fermenters, storage tanks, hot water tank, glycol tank, malt mill, steam generator, cooling plant, air compressor, mobile CIP, etc.
10HL 3 vessel fully automatic brewhouse ( German type )
Details as following descriptions:
1. Automatic Operation:
All valves are operated directly on the touch panel.
All motors will be started by switches on the control panel.
The system can save recipes and run brewing automatically.
The temperature control is done by a combined temperature control with timing control.
example, 3 vessel brewhosue DHB 1000-3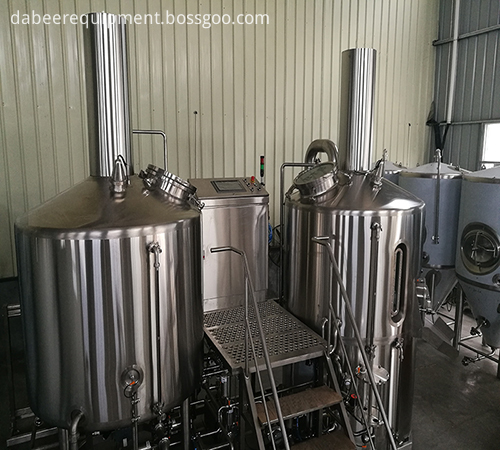 10 hl fermentation tank and conditioning tanks 10 pcs
1. Conical fermentation tank and horizontal lagering tank are available.
2. SUS304, internal wall 3mm, inner welds polished; outer shell 2mm, surface polished.
3. With cooling jacket on cylinder and conical bottom. Equipped with chiller and glycol tank.
4. Manhole on the top, top CIP spray heads, security valve and pressure measurement.
5. Conical fermenter is 60 degree bottom, drain at the center of bottom, equipped with sample tap, temperature sensor, beer faucet.
6. Cold water inlet and outlet.
7. PU insulation 50mm.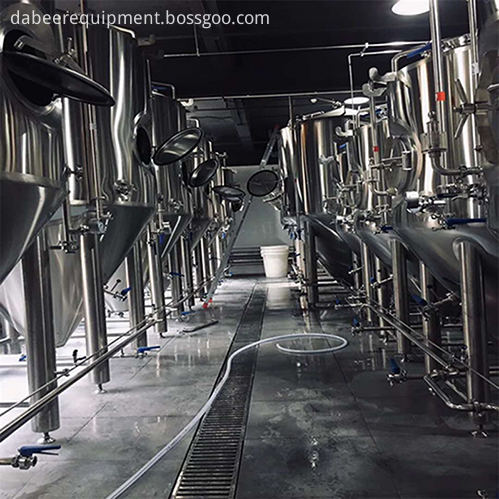 Hot water tank 20hl
with circulation pump made of stainless steel
with automatic temperature regulation
with dry operation protection of pump
made of stainless steel double walled, completely insulated
with steam heated
with all connections and fittings
Cooling plant – Glycol for wort and vessel cooling
in compact design:
for internal installation
made as one-circle system
refrigerant: R134a
glycol wage: 20%
Keg filling machine
KEG Filling and cleaning machine Multimat MT2
Additional bottle cleaning station (6 position)
Addtional bottle filler AF80