Product Description
2 vessel brewhouse craft beer brewing equipment
In this configuration, we use the following parametres:
Brew capacity: approx. 3hl / 300
Original wort: 11°Plato
Brewery yield: min. 75%
Brew cycle: 1 brew/day
Fermentation/storage: 3 weeks, where
1 week of fermentation
2 weeks of maturation
Part I 2 Vessel brewhouse DHB-300-2
For example,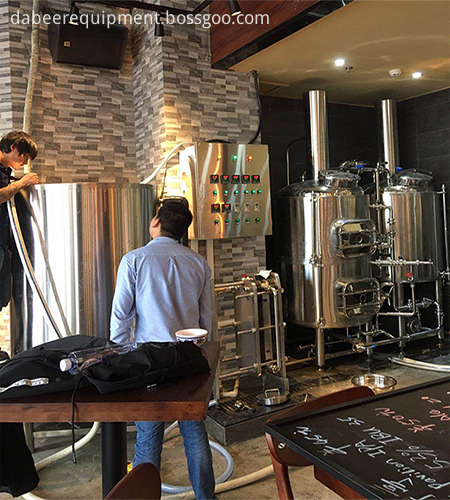 This brewhouse is planned with a capacity of 3 hl / 300 L per brew cycle.
The whole brewhouse is built from stainless steel.
It consists of 2 vessels:
· Mash and wort kettle
· Lauter vessel and whirlpool, which is placed underneth the lauter vessle and used during lautering as the first running pot
Between the brewing kettles, there is a stage mounted. In the back part of the unit the control panel is mounted with the control and feedback devices.
· Manual Operation:
All valves are operated directly on the valves. In this case the piping is built, that the operation is comfortable for the operator.
All motors will be started by switches on the control panel.
The temperature control is done by a simple temperature controler without timing control.
Optional for additional charge:
Electrical Heating System of the Copper
Partly automated control
Fully automated control
Touch panel
Visualization software for the brew process
Input for recipes and fault analytics
With electrical sensors and signalization device
Automated, with pneumatic valves in the piping
Flow meter to control the lautering speed
In the fully automated control, every option is included
Vapour condensor consists of: heat exchanger, valves and fan to remove boiling vapors
Part II. cylindrical-conical fermentation and storage tanks with a capacity of 3hl or 6hl
execution:
double walled, completely insulated
upright construction, test pressure 0,99 bar
upper bottom as dished head
lower bottom as conical bottom with opening angle 60°
Each Fermentation tank equipped with:
upper bottom
1 connection piece DN 25/25 DIN 11851
for RLV fitting with CIP connection piece DN 25
2 crane eyes
1 manhole 350 x 450 mm
2 connections for cooling, welding nipple R ½
1 thermometer
1 connection piece R ½
1 outlet DN 32 DIN 11851
3 feet made of stainless steel with pressure plates
Part III. Hot water tank 6hl
with circulation pump made of stainless steel
with automatic temperature regulation
with dry operation protection of pump
made of stainless steel double walled, completely insulated
with steam heated
with all connections and fittings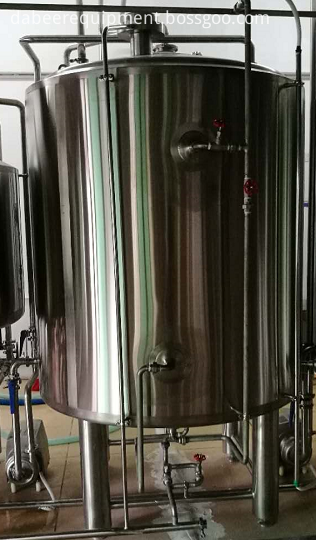 Part IV. Malt Mill
2 Roller design, 2,2 kW, appr. 100 kg/h
Electrical drive mounted on vibration buffer
Equiped with switch and current meter
Part V. Steam generator
Steam capacity: 100 kg / h steam
Heating: electricity
working pressure: 8-10 bar
equipped with:
with gas pressure regulating valve
with adjusting container made of stainless steel
with fine filter
with water meter
with all security fittings
with complete internal piping
with electronic control
Part VI. Cooling plant – Glykol for wort and vessel cooling
in compact design:
for internal installation
made as one-circle system
refrigerant: R134a
glycol wage: 20%
Brewery example: